Combined technologies reduce guest room touch points, supporting a cleaner environment
Singapore and Berlin – Tuesday, July 7, 2020 – INTEREL, the award-winning hospitality guest-room automation solution, and SuitePad, the leading provider of in-room tablets for the hotel industry, have announced a technology integration enabling guests to control room features and request hotel services directly through SuitePad tablets located in the guest room.
The integration provides guests with the option of managing room control and requesting services through SuitePad's in-room tablet in addition to INTEREL's wall mounted glass plates. With a touch on the tablet, guests can adjust the temperature, turn on, off or dim lights, open and close drapery and shades, or request services such as make-up room or privacy, in addition to standard services typically offered by SuitePad through the tablet.
"At Caesars Bluewaters Dubai, we always look to provide our guests with the most convenient and advanced in-room technology, which is why we chose INTEREL and SuitePad for their solutions," said Atul Aggarwal, Director of IT at Caesars Bluewaters Dubai. "The newly added interface between the INTEREL guest-room management system and SuitePad's tablet solution deployed at our hotel enables guests to control their entire room experience from the tablet, and we are expecting guests to make increased use of this offering in the post-COVID-19 world as they appreciate the hygiene benefits of a glass touch surface that is easily cleaned."
Guest facing products provided by INTEREL and SuitePad are flat, glass surfaces, which are easier to effectively clean when compared to devices with mechanical buttons that allow dirt to accumulate. Additionally, by consolidating controls on the in-room tablet and glass control plates, it reduces the amount of touch points that are typically used throughout the guest room.
"In the wake of the pandemic, it's more important than ever for hotels to establish cleanliness best practices that reassure guests," said Florian Gallini, INTEREL CEO. "We are proud to supply a technology that is cleaner and safer by design. Thermostats and light switches are high-touch points in hotel rooms, but with a seamless glass surface, like INTEREL panels and SuitePad's surface tablets, bacteria and viruses are not only easier to be sanitized when compared to tactile buttons, but are also visibly clean and therefore help hotels in providing their guests the confidence that the sanitization process has been followed."
"This integration represents a coming together of two best-of-breed solutions, expanding SuitePad's compatibility with one of the top hospitality technology providers on the market," said Moritz von Petersdorff-Campen, Co-Founder and CEO at SuitePad. "We're proud of the projects we have together with INTEREL, and we're confident that this partnership will improve the guest experience at hotels around the world."
About INTEREL
At INTEREL we power the modern hotel through our Hotel of Things™ ecosystem by connecting people, devices, and data. With our award-winning connectBsmart™ IoT infrastructure, built into our Guest Room Management System, and our new low cost Wi-Fi networked thermostats, we revolutionize the guest experience, increase operational efficiency, and drive sustainability in the hospitality industry. INTEREL is backed by European technology investor, Jolt Capital SAS. With offices across four continents, INTEREL's solutions are deployed in over 45 countries and have been used by over 30 million guests.
About SuitePad
SuitePad is a leading provider of digital guest communication systems for the hotel industry. The Berlin-based company was founded in 2012 and has a team of over 60 employees. In January 2020, SuitePad was named HotelTechReport's best guest room tablet and best place to work in hotel tech.
SuitePads are tablets that are specifically designed for the hotel room. They provide a centralized service that brings digital communication between hoteliers and their guests to a whole new level. Apart from providing general information about the hotel, its services, and the surrounding area, SuitePads also serve as central booking tools for services such as hotel restaurants, shops, and spas, and each one is integrated with an in-room telephone and TV remote—helping to effectively declutter the hotel room and provide a modern and hygienic experience for guests.
SuitePad serves 1000 hotels across 30 countries, amounting to over 60,000 hotel rooms worldwide. In addition to the in-room tablets, SuitePad also provides a bring-your-own-device (BYOD) solution.
Contacts:
Press Contact:
Philipp Wachenfeld, Head of Marketing, SuitePad, philipp.wachenfeld@suitepad.de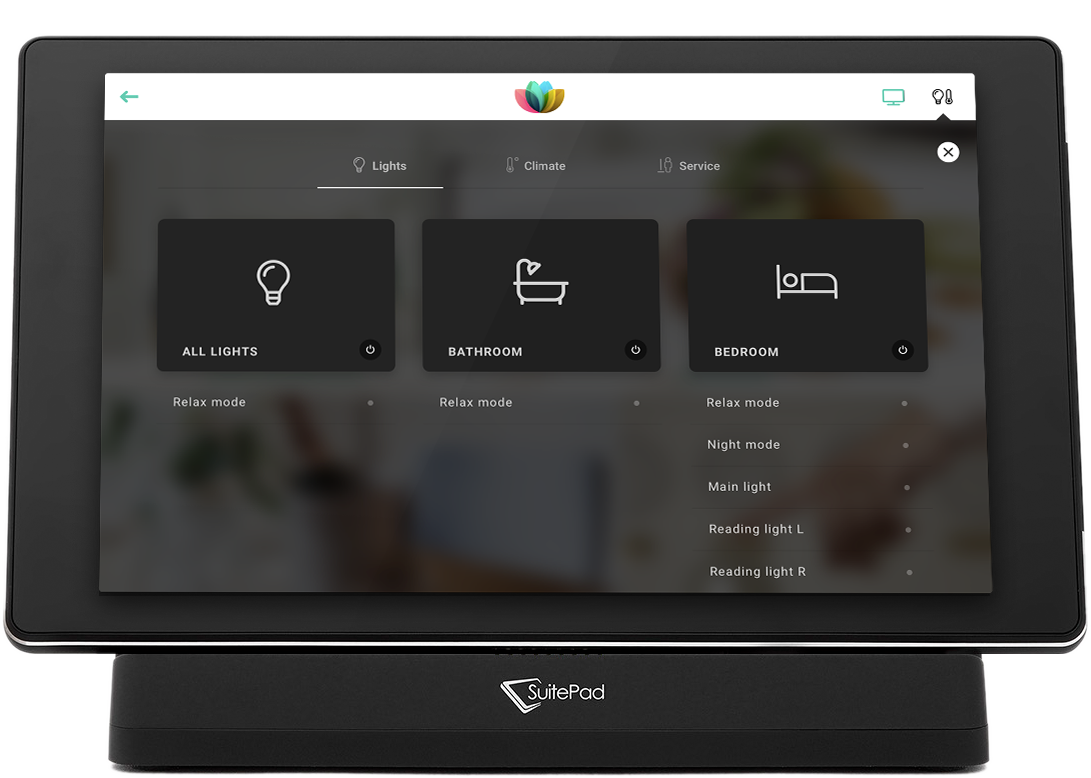 Interel room control integration on a SuitePad in-room tablet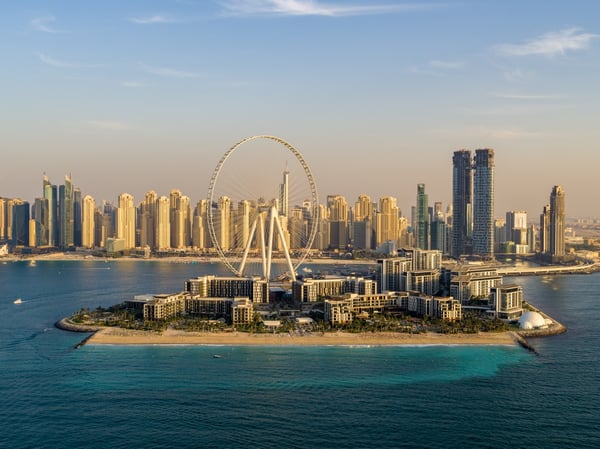 Caesars Bluewaters Dubai