SuitePad has partnered with
hotelkit
as it looks to speed up response time to guest requests made via its guestroom tablets. By incorporating hotelkit's innovative technology, SuitePad is looking to help improve the speed of response to guest requests placed via its tablets – with notifications passed directly to those staff who are able to action them.
The aim of SuitePad's offering is to increase both guest satisfaction and hotel efficiency, operating as a convenient, one-stop concierge. Its in-room guest tablets act as digital guest directories, enabling access to key hotel services, including F&B ordering, laundry services, in-room entertainment, control of room cleaning services, and all-important information on hotels and their surrounding areas. With hotelkit's integrated technology, any requests made via the tablets will be responded to far more quickly.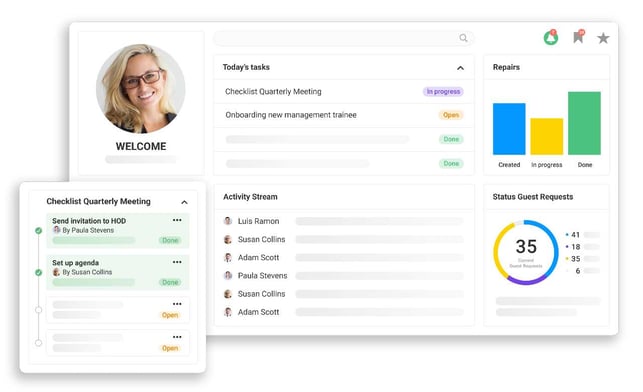 Furthermore, its functionality allows recipients to not just share guest messages, but it also allows them to discuss it behind the scenes in a comments section/@-function ¬– enabling them to deliver a more personalised, tailored experience through enhanced communication. Messages can also be sent to groups of employees, thereby increasing the chance of a swift response – with users easily able to accept or decline requests.
As a hotel operations platform, hotelkit looks to streamline internal communications and processes. Staff will be using the platform for other day-to-day tasks, with the integration now meaning that messages from Suitepads will appear in their usual hotelkit work environment, making it easier for the staff to manage.

Moritz von Petersdorff-Campen, Co-Founder and Managing Director of SuitePad, said: "SuitePad is designed to improve the guest experience and by partnering with hotelkit, we aim to make response times to guest requests that bit quicker – thereby doing more to improve their experience during their stay. What hotelkit delivers offers a perfect solution for us and we're excited to partner with them as it helps to add yet another layer of enhancement to our services."

Marius Donhauser, Founder & CEO of hotelkit, said: "hotelkit is all about making the work life of a hotel employee as easy as possible by streamlining internal communication and processes. Thanks to the interface with SuitePad, even the communication with guests can now be handled quickly and easily within one platform. Various requests posted by the guest within SuitePad are directly forwarded to the responsible team member within hotelkit to ensure a quick and smooth completion. Which leaves everyone happy – guests and hotel teams."