The family-run hotel Traube Tonbach in the Black Forest is one of Europe's premier hotels. Guests can now access information about the hotel and the comprehensive entertainment offer on tablets as well. More than 150 rooms in total have been equipped with SuitePads.
Traube Tonbach impressively combines tradition and modernity. This is'nt a common combination in the hotel industry. Renate Finkbeiner, co-owner of the Traube Tonbach, recognised the digital transformation and recently decided to equip the hotel rooms with SuitePads. While in the past there were numerous brochures about the spa offers, the event programme or general hotel information, SuitePad now replaces all this information on paper and compiles it onto a tablet PC.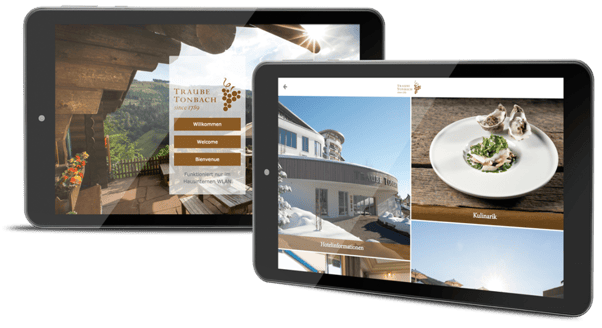 "Not only do guests now have a better overview of information about the hotel, they can also relax in their rooms at any time using the comprehensive entertainment programme including games, music and internet," says Renate Finkbeiner.
On top of that, the hospitality manager is sure that ten different flyers and brochures won't impress guests nearly as much as a modern tablet PC. SuitePad offers Traube Tonbach more flexibility in guest communication. However, personal contact remains an essential element of the culture, and will not be replaced by a digital solution. For example, using the tablet PC, guests have the option of sending a direct message to the reception or looking up the phone numbers of the relevant contacts for a personal consultation. Ultimately, guests can choose which communication channel to use.
SuitePad saves resources and increases customer loyalty
For years, the Traube Tonbach has pursued their vision of "Traube goes green". Living in harmony with nature, acting sustainably and taking on social responsibility are the core of this philosophy. Instead of regularly printing the hotel's own "Traube News" and distributing it to the rooms, SuitePad saves resources and makes it possible to update information constantly. For example, if last-minute changes are made to the event programme, the content can be updated across all SuitePads within seconds.
Empirical data show that on average, more than 80 percent of guests pick up the SuitePad daily to access information and select something from the entertainment offer. The SuitePads purposefully direct the attention of guests towards in-house events and encourage customer loyalty.