SuitePad, the leading provider of in-room tablets and expert in digital guest communication, announced its partnership with Euston Square Hotel in London today. With the installation of in-room tablets, the hotel aims to reach guests more efficiently, improve communication and generate additional revenue by digitizing room service orders and guided tour bookings.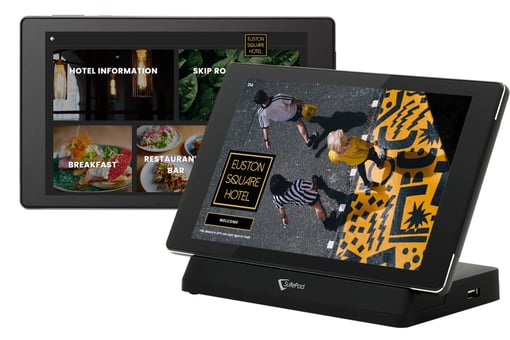 Located in the heart of Central London, the Euston Square Hotel is an independently owned, forward-thinking boutique hotel that prides itself on its 87 stylish modern rooms and relaxed, friendly atmosphere. Thanks to its superb location, visitors can effortlessly explore the city's best and return to MXO, one of London's first all-day restaurants and agave bars.
Patryk Gurtler, General Manager of Euston Square Hotel, comments: "As a hotel that values exceptional guest experiences, we are excited to optimize our communication channels. With SuitePad, we can extend our hotel's design and ethos to the tablets available in each room, creating a seamless and consistent experience from check-in to check-out."
Euston Square Hotel opted for SuitePad's in-room tablets because their award-winning hardware is specifically developed for hotels. In addition, the management was impressed by the software's ease of use, providing a familiar and comfortable layout akin to modern websites, completely adapted to the hotel's branding.
"We are always particularly thrilled to create installations for design-led hotels that have a strong visual identity and a clear tone of voice," says Moritz von Petersdorff-Campen, co-founder and managing director of SuitePad. "The collaboration with the Euston Square Hotel allows our state-of-the-art technology to merge with a bold and unique user interface, providing a truly contemporary guest experience."
About SuitePad
SuitePad is the leading provider of in-room tablets in the hotel industry. The award-winning solution combines a guest directory, booking tool, phone, TV control, and more in one device. More than 1,000 customers worldwide — from renowned hotel chains to independent boutique hotels — use SuitePad to improve guest communication, generate higher sales revenue, and optimize processes. In January 2023, the Berlin-based company was awarded the HotelTechAward "Best Guest Room Tablet" for the fourth consecutive time.
Image Copyright: Euston Square Hotel & SuitePad