● Another touchpoint in the hotel stay is digitized
● Services can be booked directly from the hotel room
● limehome optimizes the feedback process with SuitePad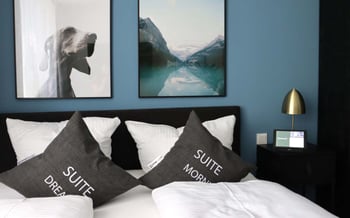 The limehome digital hotel concept is furthering the technological development of its design apartments and is now using SuitePad devices from the provider of the same name in all its design apartments. After testing the concept last year in selected locations, SuitePads will be available in all 500 bookable apartments across Germany, Austria, and Spain in 2021. The Munich start-up has been using SuitePads in ten of its apartments since April 2020.

limehome is now digitizing another crucial part of the travel experience—the guest directory. At a glance, travelers can now receive all relevant information about their stays such as information on the apartment, the surroundings, or information about the check-in and out process. Above all, the range of services is made even easier for guests. They can now book additional services such as extra cleaning or fresh towels using the digital platform. In addition, guests can find useful information such as restaurant or bar recommendations, or information on day trips in the local area using the in-room tablets. Entertainment offers can also be preinstalled on the SuitePads.

Josef Vollmayr, co-founder and managing director of limehome said: "The SuitePad is the perfect addition to our technology-based apartments. In this way, we digitize another important part of the stay and ensure that guests can communicate with us even faster and give us their feedback more easily".

SuitePads create another important digital contact point with the brand. While limehome deliberately dispenses with a classic reception and hotel staff, SuitePads offer the possibility to send personalized messages to guests to address travelers directly at an individual level. Using push notifications and pop-ups such as check-out reminders, limehome can improve the guest experience for all that enter their apartments. Simultaneously, limehome enables an open and above all efficient feedback culture. Guests can easily communicate suggestions, praise, or criticism via the SuitePad devices, allowing any negative feedback to be quickly processed and taken into account.

Moritz von Petersdorff-Campen, co-founder and managing director of SuitePad said:
"With an extremely progressive and digital approach, limehome creates a completely new concept that would hardly be economical for traditional hotels. Anyone who thought that this staffless approach would result in lower guest satisfaction has been proven wrong. limehome's approach to technology shows that the focus is on the guest experience and guest communication. We are an ideal match and we look forward to supporting limehome in the future "


About limehome
limehome (2018) offers travellers a better, digital hotel alternative with fully equipped design apartments located in multiple locations. Operated by hospitality professionals and designed by renowned architects, limehome combines the quality standards of a hotel with the advantages of an apartment. limehome is driving the digital revolution in the hotel industry and redefining standards in functionality, comfort and design. Through the fully digital customer journey from booking to check-out and invoicing, limehome customers experience maximum comfort, no waiting times and flexibility when travelling. The company has more than 120 employees and is already operating over 70 German, Austrian and Spanish locations.