The Radisson Hotel & Suites Amsterdam South and the Holiday Inn Express & Suites Deventer will enhance guest interactions, share real-time information, and seize revenue opportunities using in-room tablets.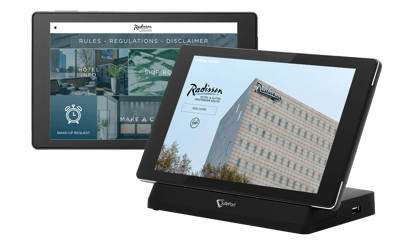 SuitePad, the leading provider of in-room tablets and expert in digital guest communication, announced its partnership with Cycas Hospitality today. Together they have equipped over 300 rooms in the Radisson Hotel & Suites Amsterdam South and the Holiday Inn Express & Suites Deventer with devices exclusively developed and manufactured for hotels.

Cycas Hospitality is Europe's leading hotel management company with a portfolio of over 45 branded and independent properties across twelve countries, including key-city locations, travel hubs, and leisure destinations.

Dan Edwards, VP – Information Technology at Cycas Hospitality, comments: "We are excited to partner with SuitePad to positively influence our guest interactions at two of our Dutch properties. By automating processes, we can reach our sustainability goals and allow our hotel team members to focus their attention on guests."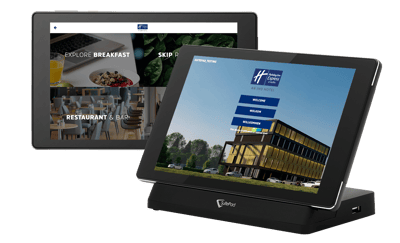 Cycas Hospitality selected SuitePad because their in-room tablets eliminate the need for printed collateral as well as additional telephone hardware. This provides guests a modern and streamlined way to view and interact with hotel services, contributing to the company's focus on delivering an outstanding guest experience.

Moritz von Petersdorff-Campen, co-founder and managing director of SuitePad, says: "We are thrilled to join forces with such an influential hotel management company to push the digital transformation of the industry. It is a fantastic signal that Cycas together with brands like Radisson and IHG are embracing our tablet-integrated telephone solution to replace traditional hotel phones."
About SuitePad
SuitePad is the leading provider of in-room tablets in the hotel industry. The award-winning solution combines a guest directory, booking tool, phone, TV control, and more in one device. More than 1,000 customers worldwide — from renowned hotel chains to independent boutique hotels — use SuitePad to improve guest communication, generate higher sales revenue, and optimize processes. In January 2023, the Berlin-based company was awarded the HotelTechAward "Best Guest Room Tablet" for the fourth consecutive time.
Image Copyright: Cycas Hospitality & SuitePad