Berlin / Los Angeles – December 1, 2020 –This week, SuitePad earned Hotel Tech Report's level I Global Customer Support Certification (GCSC) for its investments into tools, processes and strategies to ensure the ongoing success of its customers across the four of the key pillars of the GCSC Rubric including: pre-emptive support, reactive support, coaching and customer validation.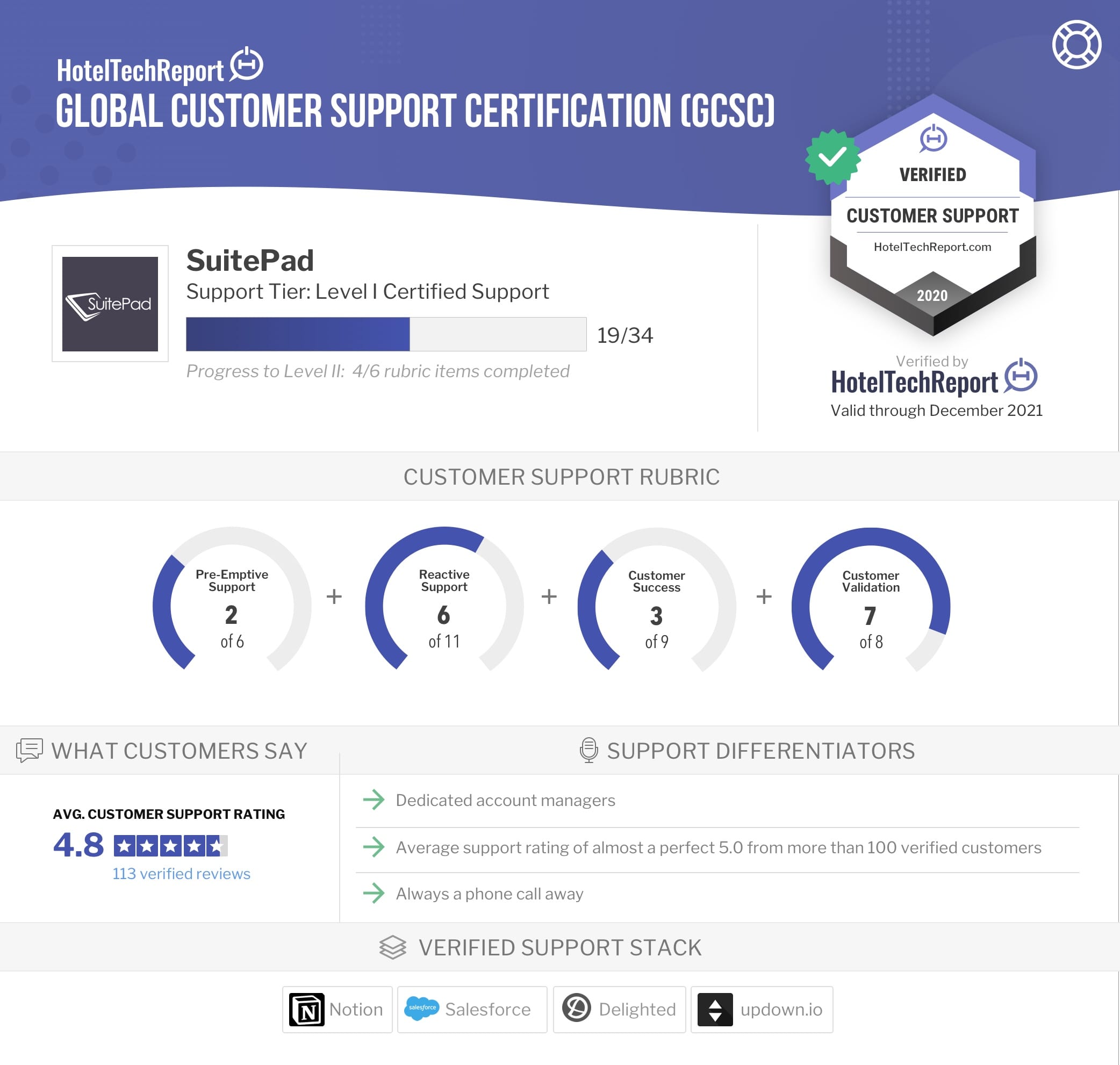 The Hotel Tech Report GCSC certification program analyzes software vendors along critical dimensions of customer support infrastructure in order to help hoteliers minimize risk and maximize positive outcomes when selecting technology partners. In order to become certified, companies must open their internal systems to Hotel Tech Report for assessment along HTR's rigorous 34-point GCSC Rubric.

See full announcement HERE.
About HotelTechReport
HotelTechReport is an online platform that strives to innovate the hotel industry by providing a centralized digital space where new technologies can be presented and evaluated. They aim to make technology fun, easy, and accessible to the global hotel industry. Further information can be found at www.hoteltechreport.com.
About SuitePad
SuitePad is Europe's leading provider of in-room tablets in the hotel industry and an expert in digital guest communication. The Berlin company was founded in 2012 and now has over 60 employees. In January 2020, SuitePad was awarded first place at the "Hotel Tech Awards" in the categories "Guest Room Tablets" and "Best Places To Work in Hotel Tech". The SuitePad, a tablet for the hotel room, replaces the traditional guest directory by taking digital communication between hoteliers and guests to a whole new level. In addition to general information about the hotel, the surrounding area, gastronomic offers, and an entertainment menu, the SuitePad also serves as a booking tool for spa treatments and restaurant reservations and also combines the hotel TV remote control, and hotel room telephone in one device. SuitePad has equipped more than 1,000 hotels in 30 countries and over 60,000 hotel rooms with its in-room tablets. The portfolio also includes a BYOD solution - Bring Your Own Device, for the use of guest devices - and the SuitePad lobby screen.
Press Contact:
Philipp Wachenfeld, VP Marketing, SuitePad, philipp.wachenfeld@suitepad.de