SuitePad and Gold Key Media are celebrating their 200th joint customer!
Berlin / Heidelberg, July 2019. For over a year now, SuitePad and Gold Key Media Germany (GKMG) have been working in close cooperation to bring a wide variety of publications to over 10,000 hotel rooms worldwide. The two companies are now celebrating their 200th joint customer after the successful completion of a contract with the Mercure Hotel Kaiserhof Frankfurt City Center. This four-star high-end hotel in one of Germany's main metropolises relies on state-of-the-art technology to offer guests access to over 300 german language publications and over 600 international newspaper and magazine titles.


SuitePad and Gold Key Media – the perfect all-round solution
Mohammed Erassas, the resident manager of the Mercure Hotel Kaiserhof Frankfurt City Center, is pleased with the advantages of the close partnership between SuitePad and GKMG: "The hotel industry is now at the point where it's imperative that hotels establish themselves in the market by digitizing their services. The partnership between SuitePad and GKMG offers us the perfect solution. Thanks to the intuitive interface, it's now easier than ever before for us to meet the individual needs of our international guests, providing them with a convenient and modern experience. In addition, we can send guests customized messages. The combination of the great services of both SuitePad and GKMG is clearly an asset to our hotel and our guests."
One in four of the 800 hotels that SuitePad serves across 28 countries is now integrated with the GKMG service on the customizable menu of their SuitePad tablets.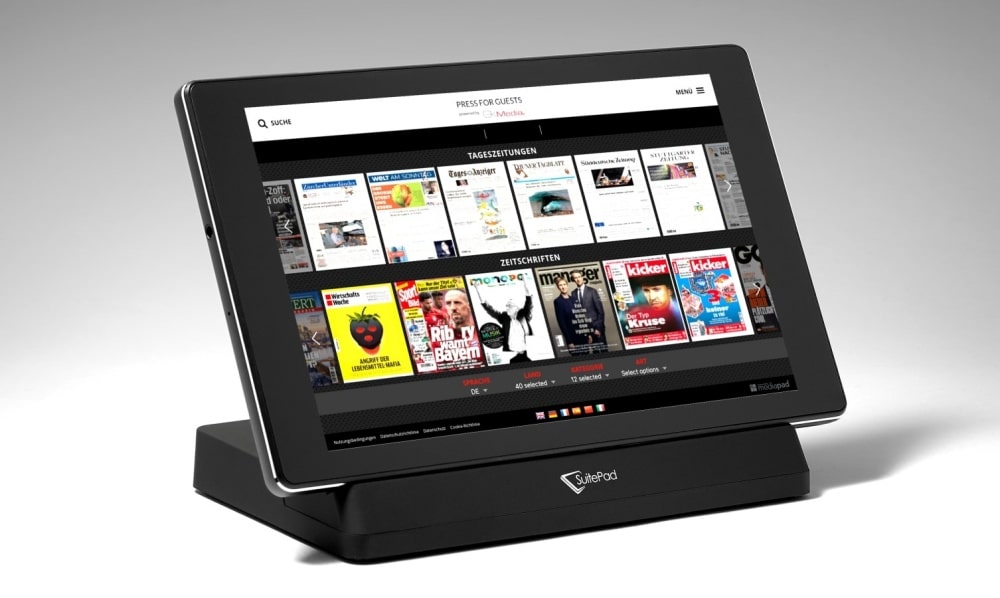 About SuitePad
SuitePad is Europe's leading provider of digital guest communication systems for the hotel industry. The Berlin-based company was founded in 2012 and has a team of over 60 employees.

SuitePads are tablets which are specifically designed for the hotel room. They provide a centralized service which brings digital communication between hoteliers and their guests to a whole new level. Apart from providing general information about the hotel, its services, and the surrounding area, SuitePads also serve as central booking tools for services such as hotel restaurants, shops, and spas, and each one is integrated with an in-room telephone and TV remote – helping to effectively declutter the hotel room and provide a modern experience for guests.

SuitePad serves more than 800 hotels across 28 countries, amounting to over 50,000 hotel rooms worldwide. In addition to the in-room tablets, SuitePad also provides a bring-your-own-device (BYOD) solution and an interactive projector specifically designed for hotel lobbies.

About Gold Key Media
Gold Key Media Germany GmbH (GKMG) is based in Heidelberg and was founded in 2002. It manages more than 500 German-language publications and branded goods in more than 6,000 hotels in German-speaking countries and is the leading service provider when it comes to press products for hotel guests, whether it be traditional print or digital formats. GKMG has made significant strides with its digital solutions in recent years, making it a market leader in the digital publishing industry. It offers over 900 international titles with its service, including over 600 audiobooks and e-books as well as various games. Its Europe-wide customer base is made up of over 700 hotels.

If you have any questions about this press release, please feel free to contact us at marketing@suitepad.de!