Novotel Amsterdam Schiphol Airport is Making the Switch From Handy to Suitepad
Hoofddorp / Berlin, September 19, 2019 – From October 1st, Novotel Amsterdam Schiphol Airport will be introducing the perfect addition to their hotel rooms: SuitePad. SuitePads are tablets that act as central points of information and customer engagement for guests in the hotel room. At Novotel Amsterdam Schiphol Airport, Handy is being replaced because guests have less and less need for an extra smartphone.
SuitePads allow guests to access information faster, with more specificity, and at a time that suits them. The SuitePads which are specific to the Novotel Amsterdam Schiphol Airport are loaded with customized information about the hotel, the cities of Hoofddorp and Amsterdam, and local activities available for guests such as bike rental, walking routes, and local landmarks.
If despite all this information, customers still have questions, they're able to easily start a chat with one of the reception staff through their SuitePad. They can also request a wake-up call, order room service, and much more all through their in-room tablets. In addition, guests have access to a number of entertainment and relaxation apps such as Netflix (using their own login), radio, social media, internet browsers, and games. Guests are also able to forego a day's room cleaning in exchange for a 5 Euro voucher to be used in the hotel restaurant or bar. This little gift is to say thank you to the guest for choosing this option to help preserve the environment.
Floris Licht, General Manager of the hotel: "One of the reasons that we decided to go with SuitePad was that it offers an even more complete service for our customers. This way our staff have more time available to concentrate on the more complex requests some of our guests might have. I am convinced that this will provide a higher level of service and greater customer satisfaction. It will also increase sales and save money, and was the logical replacement for Handy at our hotel. Nowadays, guests have very little need for an extra smartphone, and they usually prefer to use their own devices, especially as roaming costs are not as big an issue as they were three years ago."
Bastiaan Rohof, the Senior Sales Manager at SuitePad: "Every hotel has different requirements because every hotel offers something different for its guests, and so every installation we make is tailor-made for the specific hotel. The information that is presented through the tablets is easily adjusted through our "backend". Not only can you adjust the information yourself, but you'll also be assigned a dedicated account manager to ensure that the SuitePad installation remains constantly up to date. Every month, the hotel receives an extensive report which shows which services and products guests are most interested in and how often they use the SuitePad devices. This helps us provide tips on how you can increase sales."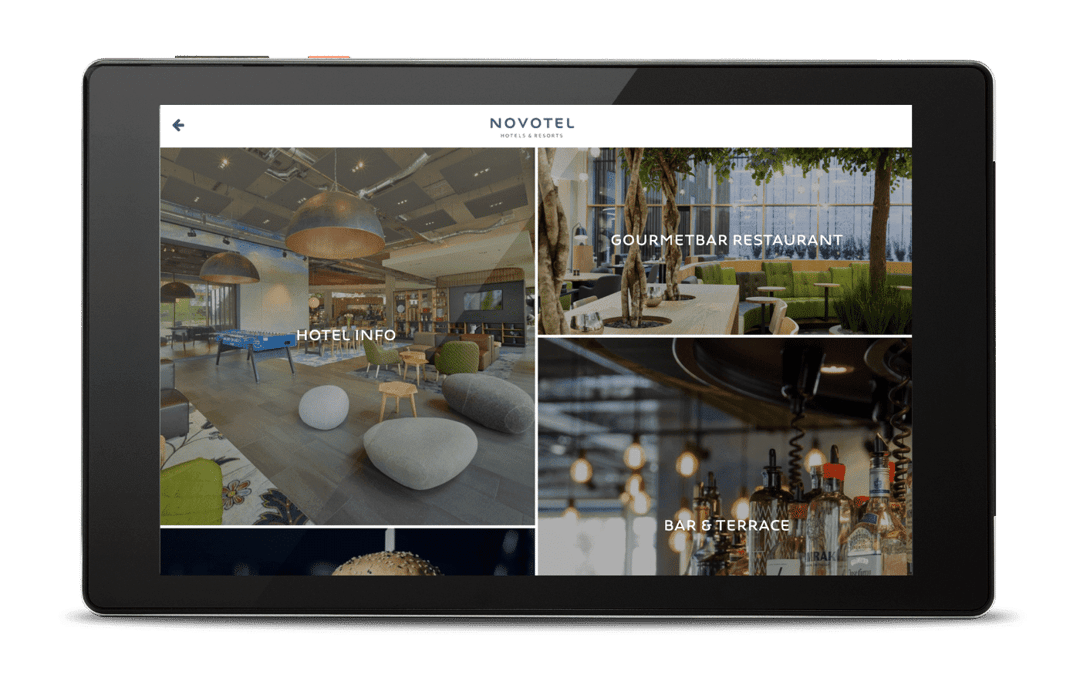 About SuitePad
SuitePad is Europe's leading provider of digital guest communication systems for the hotel industry. The Berlin-based company was founded in 2012 and has a team of over 60 employees.
SuitePads are tablets which are specifically designed for the hotel room. They provide a centralized service which brings digital communication between hoteliers and their guests to a whole new level. Apart from providing general information about the hotel, its services, and the surrounding area, SuitePads also serve as central booking tools for services such as hotel restaurants, shops, and spas, and each one is integrated with an in-room telephone and TV remote – helping to effectively declutter the hotel room and provide a modern experience for guests.
SuitePad serves more than 800 hotels across 28 countries, amounting to over 50,000 hotel rooms worldwide. In addition to the in-room tablets, SuitePad also provides a bring-your-own-device (BYOD) solution and an interactive projector specifically designed for hotel lobbies.


About Novotel Amsterdam Schiphol Airport
Novotel Amsterdam Schiphol Airport, which is located next to Hoofddorp station, was opened at the end of 2015. It has 314 rooms and 17 meeting rooms in total. The hotel has been the region's number 1 hotel on Tripadvisor since mid 2016 and won the Dutch Hotel Award in 2018. The hotel was built in accordance with Accor's Planet 21 - concept standards for sustainability. This for example means the hotel has specialized windows that ensure little heat is lost, there is good ventilation, and they use environmentally-friendly and reusable materials as much as possible. The roof of the hotel is used to grow plants, creating a sound and heat insulating layer that also extends the life of the building. The hotel is home to around half a million honey bees, but of course, none of them live in the guests' rooms!

If you have any questions about this press release, please feel free to contact us at marketing@suitepad.de!